Advertisement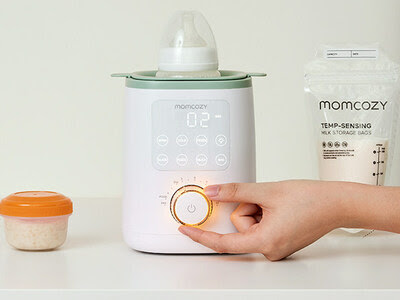 Momcozy, a global maternity and baby brand, has unveiled its latest offering, the Nutri Smart Baby Bottle Warmer.
This bottle warmer is designed to simplify the lives of breastfeeding mothers with its user-friendly, multi-functional design while also extending a quick and efficient way to warm up milk and other baby foods.
Advertisement
The Nutri Smart Baby Bottle Warmer offers a range of benefits that distinguish it from other bottle warmers on the market.
The product offers smart and efficient heating for both room temperature milk (68-77℉) and refrigerated milk (0-10 ℉) , allowing the baby to enjoy their milk at a suitable temperature in 3 to 5 minutes.
Milk that is closer to body temperature can be quickly absorbed by the baby, and none of its nutritional value goes to waste. The bottle warmer can also keep the milk warm all day, making it convenient for parents to feed their babies day and night.
Meanwhile, its gentle defrosting function thaws frozen breast milk before heating, preserving essential nutrients and maintaining the milk's texture and flavor for the baby's satisfaction.
The LED screen, countdown timer, and built-in nightlight make it effortless to operate and monitor the warming process, providing a hassle-free solution for parents at night, or when parents need to focus more attention on their crying baby.
Also Read : Know how saffron can boost your immunity during winter
(With inputs from The OnLook News Research Bureau)
If you like this article and if you feel it will be helpful for others to understand on the subject, please share it. You can also follow us on Twitter,  Facebook & Linkedin
Advertisement