Advertisement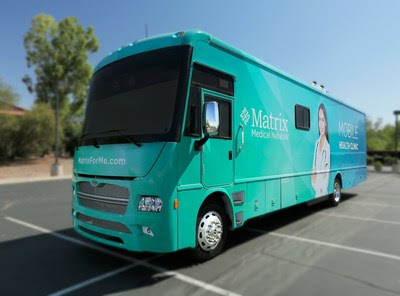 Matrix Medical Network has announced a partnership with AstraZeneca to accelerate a clinical trial in the US for AZD7442, AstraZeneca's long-acting monoclonal antibody (LAAB) combination for the potential prevention of Covid-19.
Matrix Clinical Solutions will meet eligible volunteers and work with a fleet of Mobile Health Clinics and skilled clinicians, by focussing on populations more impacted by COVID-19.
Trending News
Mark Esser, Vice President, Microbial Sciences BioPharmaceuticals R&D, AstraZeneca, said, "We are excited to collaborate with Matrix to help secure a diverse participant population and meet STORM CHASER participants where they live and work."
Matrix Chief Medical Officer Daniel Castillo, M.D, said, "Matrix has provided direct clinical trial operational support to several top vaccine candidates by deploying more than 20 Mobile Health Clinics and directly supporting more than 4,000 trial patient visits."
Matrix is supporting the Phase III clinical trial known as STORM CHASER, which will assess the safety and efficacy of AZD7442 for post-exposure prophylaxis in around 1,125 participants in the united States and United Kingdom.
Those participating in this trial will include adults over 18 years of age following exposure to SARS-COV-2 and who are therefore at appreciable risk of developing COVID-19. The trial will include people living or working at long-term care facilities as well as industrial and military settings.
Matrix and AstraZeneca teams are partnering to rapidly develop, deploy and manage clinical research sites across the country. In a typical study, participants would need to travel to established sites often affiliated with academic medical centers in major cities which may hinder trial participation.
Better patient experience
Matrix, by bringing the clinical trial to the patient via Mobile Health Clinics, is enabling further participation and creating a better experience for the patient.
It will lead onsite clinical trial activities including but not limited to screening, drug administration, and monitoring.
Matrix will partner with over 10 research institutions across North Carolina, Texas, Arkansas, California, Florida, Illinois, and Virginia.
(With inputs from The OnLook News Research Bureau)
If you like this article and if you feel it will be helpful for others to understand on the subject, please share it. You can also follow us on Twitter,  Facebook & Linkedin
Also read: Utthita Vasisthasana is secret of strong arms, wrist of Malaika Arora
Trending News