Advertisement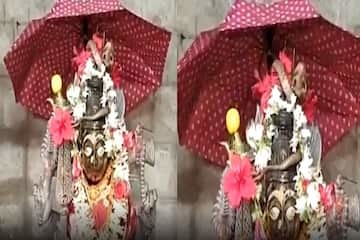 The sudden appearance of live snake on Goddess Sowdeswari Amman idol in Hosur attracted hundreds of devotees today, as reported by News 18.
Ravi, a farmer in Idayanallur village near Hosur has constructed a temple for Sowdeswari Ammain in his farm land and performed Kumbabishekam a month ago. The 40-day poojas following Kumbabishekam are being performed now.
Advertisement
While so, today morning when Ravi entered the temple to perform pooja, he witnessed a Cobra dancing on the idol of presiding deity Sowdeswari Amman.
Immediately Ravi informed this matter to the village people while the news spread like wild fire in the area.
Following this huge number of devotees from Kurubatti, Mathigiri, Titan Township and Idyanallur villages visited the temple and worshipped the Goddess Sowdeswari Amman.
Also Read : Hosur Kottai Mariamman a goddess for wellness
Click here to follow us on Facebook 
Advertisement