Advertisement
Purna Natarajasana is one of the main yoga asanas that has immense health benefits when it is performed systematically. Shubhankshi Dobhal, who is an engineer and yoga expert, explains how to do Purna Natarajasana and what are its benefits.
Yoga, India's ancient practice for physical and mental wellness, is loaded with immense benefits. Thanks to the push to Yoga in the recent years, the whole world is now looking at India with awe after realising its power.
Advertisement
As the name suggests, Purna Natarajasana requires one to perform it like Nataraja, the Lord of dance.
"Start by standing straight in Tadasana," says Shubhankshi, as she begins the session.
She then asks you to breathe in and bend your one leg backward (right leg). "Hold onto your thumb of right leg with your right hand. Flip your grip and move your right leg upwards as much as you can," she says.
She then asks you to stretch your left arm and hold your right leg with both the hands. Now hold the posture while maintaining your balance and stretch your right leg and both hands as much as you can, pulling the right leg upwards," she explains.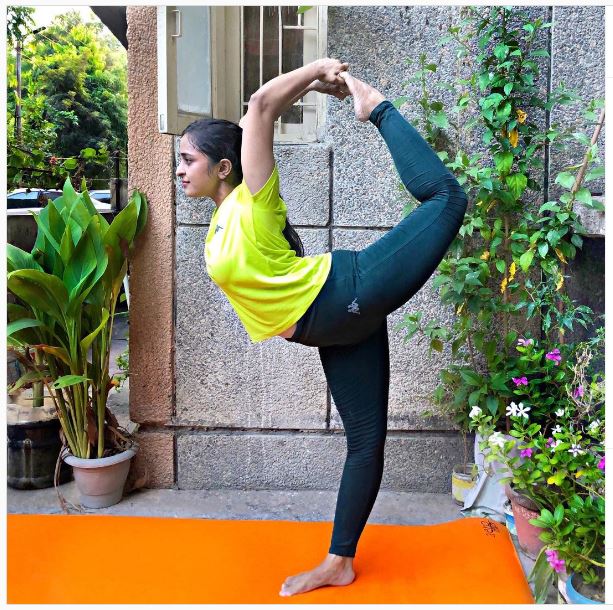 The Yoga expert, while asking you to take a few deep breaths, adds: "Gaze straight ahead and keep your left foot grounded, with toes pointing ahead."
She then asks you to slowly let go of your leg and lower your hands and leg as they return to initial Tadasana pose. She also asks you to repeat the asana for the left leg. To perform this Asana, one can also use a strap to practice, she suggests.
What are the benefits
Talking about its benefits, Dobhal says practicing this asana gives you strength and flexibility while stretching your chest, back, ankles, hips and legs.
Those practicing it will develop a sense of balance as their concentration improves. This asana calms mind so they focus more and are also relieved of stress.
Practicing this asana will also help to improve your posture. At the same time, this asana increases metabolism and helps in weight loss.
(With inputs from The OnLook News Research Bureau)
If you like this article and if you feel it will be helpful for others to understand on the subject, please share it. You can also follow us on Twitter,  Facebook & Linkedin
Also Read : Malaika Arora believes Tulasana helps to relax her muscles and keep upper body fit
Interesting Read : 5 easy and healthy vegetables you can grow in your home garden 
Advertisement